Montana DECA Finance Pathway Partner
DECA is Montana's Premier Business CTSO (Career & Technical Student Organization), dedicated to preparing emerging leaders and entrepreneurs in Marketing, Finance, Hospitality, and Business Management. Through their partnership with Montana DECA, School Districts are supporting a comprehensive co-curricular learning platform that empowers youth across Montana to become academically prepared, community oriented, professionally responsible, experienced leaders.
As the Official Finance Pathway Partner, Sky Federal Credit Union is dedicated to spirited young people looking for something different, allowing the Montana DECA membership to expand their opportunities, learn key business principles, and inspire their communities toward continued greatness.
While gaining a valuable high school education, Montana DECA members are connected to a network of more than 286,000 members across the international DECA community, including all fifty states and nine countries. Montana DECA's Comprehensive learning platform integrates into classroom instruction, applies learning, promotes competition, and connects to business.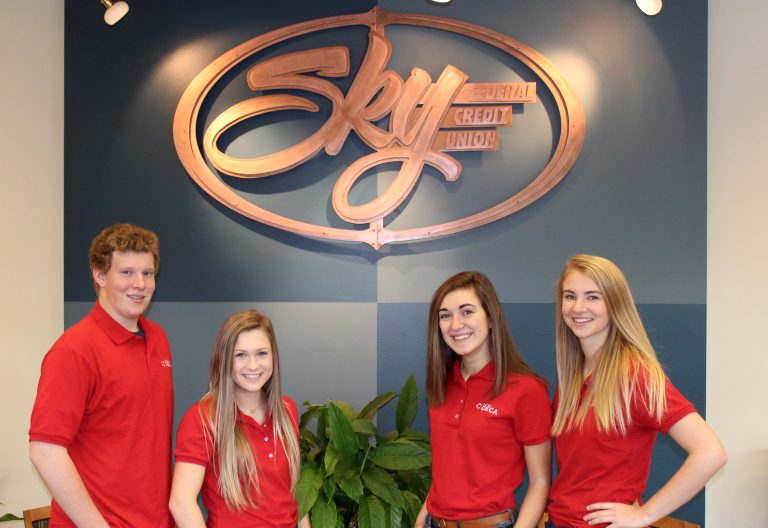 Through our Official Finance Pathway Partnership, Sky Federal Credit Union creates targeted competitive events for the statewide membership. Students are empowered to create realistic, efficient, and effective solutions to the problem statement/project we provide. The Sky Federal Credit Union Finance Pathway Event is presented to members of our Management Team at the State Career Development Conference mid-February. Winning participants/teams advance to the International Career Development Conference, where they compete for International Honors.
Montana DECA exposes high school youth to competence, integrity, innovation, and teamwork. To learn more, visit www.mtdeca.org
HELPFUL RESOURCES: